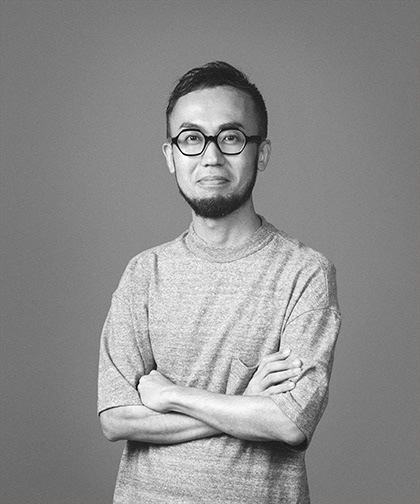 Founder / Director / Designer
藤田 雅臣 | Masaomi Fujita
静岡県生まれ。静岡文化芸術大学 デザイン学部卒。
都内の企業で企画・編集・ディレクション・デザインなどの業務を経験し、企業のプロモーション媒体やブランディングツールの制作に従事。
2012年デザインオフィス「tegusu」を創業。2016年に株式会社tegusuを設立し、横浜市中区に移転。
コンセプトづくりからデ
ザインまでを一貫して行うクリエイティブワークを大切にし、プロジェクトの企画やデザイン、商品やサービス・

企業や店舗のCI・VI開発、サイン、パッケージ、広報物のグラフィックデザインなど、幅広い領域のデザインを行なっている。
Born in Shizuoka Prefecture. Graduated from the Faculty of Design, Shizuoka University of Art and Culture. Engaged in the production of corporate promotion media and brand building tools in sections of planning, editing, direction, design, etc., in a design company in Tokyo.  Established a design office "tegusu" in 2012. Founded tegusu Inc. in 2016, and relocated the office to Nakaku, Yokohama. From developing concepts to design, we give priority to providing a wide variety of creative work while kee

ping an eye on brand building. We engage in activities regardless of the field, including project planning and design, C

I and VI development for products, services, corporations and shops, as well as graphic design.
​​​​​​​
Director / Designer / Illustrator
山梨県生まれ。多摩美術大学 情報デザイン学科卒。東京都内でWEBディレクターとして勤務後、自社サービスのWEB、アプリ、UI等の開発、ブランディングに10年以上にわたり携わる。tegusuでは経営管理やプロジェクトディレクションとして携わる傍ら、WEBデザイン、イラストレーションの制作も行なっている。
​​​​​​​
Designer
​​​​​​
三好 亮子 | Ryoko Miyoshi
愛媛県生まれ。大阪芸術大学 芸術学部 グラフィックデザイン学科卒。大阪の印刷会社でデザイン業務を行い、印刷物やWEBデザインの制作に携わる。趣味はカメラ、美術館に行くこと、印刷物を集めること。2019年にデザイナーとして参加。
◎Behance Portfolio Reviews #4 First prize 2013
◎Hiiii brand award Nomination 2013
◎Asia-Pacific Design "make sake project as if" 2016
◎Top
awards Asia "The dawn in Shisui" 2018
◎International Book Awards Winner "BUDO" by Nikko Graphic Arts  2018
◎The Japan Book Design
Award 2018 Finalist  "BUDO" by Nikko Graphic Arts 2018
◎Topawards Asia "Kinoene Apple" 2019

◎GRAPHIC DIGITS/viction:ary(2014)
◎BRANDING ELEMENT LOGOS3/sendpoint(2014)
◎キャラクターでもっと伝わるデザイン/PIE BOOKS(2014)
◎Human Logo:Trademarks & Symbols/Counter-Print(2014)
◎chois Gallery the world's best graphics/Chois(2014)
◎単色×単色のデザイン/PIE BOOKS(2015)
◎HANZI KANJI HANJA/viction:ary(2015)
◎50Brilliant-flyer-design/Canva(2015)
◎GIFアニメーションの可能性-和の融合-/CREM (Click)(2015)
◎LOGO TALKS 3/Artpower(2015)
◎APPLIED TYPEFACE/Artpower(2015)
◎小さなお店のショップイメージグラフィックス/PIE BOOKS(2015)
◎ANIMAL GRAPHICS/Sandu Publishing(2015)
◎GOOD IDEA4/Hightone books(2015)

序文執筆
◎企業案内グラフィックス/PIE BOOKS(2015)
◎Online C41 magazine (Click)(2016)
◎Feed Me!/RHED Publishers(2016)
◎Inspire6月号/IDEA CREATIVE CENTER INC(2016)
インタビュー掲載
◎まちアド〜地域の魅力をPRするデザイン(2016)
◎Logo Decode/Sandu Publishing(2016)
◎BranD magazine vol.25/Send point(2016)
インタビュー掲載
◎スタイル別ブランディングデザイン/PIE BOOKS(2016)
◎Abstract Logo/Counter-Print(2016)
◎日本語のロゴメイキング/グラフィック社(2016)
解説文執筆
◎Design 360˚ Magazine no.65/Sandu Publishing(2016)
◎数字で伝える広告デザイン/PIE BOOKS(2016)
◎ASIA PACIFIC DESIGN(APD) 2016/ Sandu Publishing (2016)
◎イラスト×アイデア デザインコレクション/グラフィック社(2017)
◎進化する!地域の注目デザイナーたち/Pie International(2017)
◎JAPANESE GRAPHICS /Send Points(2017)
序文執筆
◎Logoism/Sandu Publishing(2017)
◎Symbols in Graphic Design/SendPoints Publishing(2017)
◎LOGOS 4/SendPoints Publishing(2017)
◎Designer's Code 100/ Sandu Publishing (2017)
◎個性が光る!小さな会社のブランディングブック/PIE BOOKS(2017)
◎IdN v23n6: Illustration in Pattern Making /IdN Magazine(2017)
◎BranD magazine vol.33/Send point(2017)
◎素材を使わないデザインのヒント/PIE International(2017)
◎Asian Typography/Sandu Publishing(2017)
◎BranD magazine vol.34/Send points(2017)
◎Logos from Japan/Counter-Print(2017)
◎セットで展開するポスターとチラシのデザイン/BNN新社(2018)
◎1枚で情報を伝えるデザイン/PIE International(2018)
◎Brand drop pro/Sparrow(2018)
◎Made in Japan/
viction:ary
(2018)
◎Packaging/Counter-Print(2018)
◎実例つきロゴデザイン/PIE International(2018)
◎Remarkable graphic styles―Void/Send point(2018)
◎デザインノートNo.81/誠文堂新光社(2018)
◎Flora & Fauna/
viction:ary
(2018)
◎BOOOOOOK 3/DESIGNERBOOKS(2018)
◎ジャパンモチーフグラフィックス/PIE International(2018)
◎広がるフライヤー/BNN新社(2019)
◎レイアウト・デザインの教科書/SBクリエイティブ(2019)
◎It's Match! Creating color palettes in Design(2019)
◎字戀狂的世界觀/BranD Magazine(2019)
◎心おどるイラスト×伝わるデザイン/PIE International(2019)
◎1枚デザインの構図とレイアウト/PIE International(2019)
◎BranD Magazine vol.46/Send points(2019)
◎欲しくなるパッケージのデザインとブランディング/PIE International(2019)
◎配色デザイン良質見本帳/SBクリエイティブ(2019)
◎ペライチのデザイン/BNN(2020)
◎Optimum Type/Sandu Publishing(2020)
◎楽しい!美しい!情報を図で伝えるデザイン/PIE International(2020)
◎タイトル文字のデザイン//PIE International(2020)

他 etc