全国での講演や、電話・対面による相談により、がん治療に役立つ情報を提供している株式会社M&Fパートナーズ。tegusuでは同社の事業におけるキーワードの抽出、タグラインの策定、シンボル/ロゴタイプ開発、名刺やパンフレットなどの印刷物、WEBなど、ブランドづくりを総合的に担当しました。
M & F Partners, Inc. is a company that provides useful information for cancer treatment through lectures held across the country, and consultation on the phone and in person. tegusu handled the overall brand building work, including the extraction of keywords for the company's business, the development of the tagline and symbol/logotype. We also worked on the website and printed materials like business cards and pamphlets.
いのちを支える情報を、もっと多くの人へ。


タグラインには、「治療」や「お金」に関する大切な情報を提供することで、少しでも多くの人の「命」を支えるという同社の役割を、シンプルで理解しやすい言葉で表現しました。
Delivering information that supports human lives to more people.
The tagline shows the company's role of supporting as many "lives" as possible by providing important information related to "treatment" or "finance" in simple words which are easy to understand.
シンボルは、メディカルを表す「M」とファイナンスを表す「F」をモチーフに、二人の人がハートを支えています。M&Fパートナーズと患者、医者と患者、M&Fパートナーズと医者など、一人で解決できない病気の問題を、パートナーシップによって解決し、人と人が交差する場所には必ず希望の光が射すことを、イエローの色彩で表現しています。中心のハートはメディカル(M)だけではなく、患者のメンタル(M)も同時に支えていくことへの誓いでもあります。カラーは冷静さや洞察力を表す濃紺を基調とし、大切な局面で経験と知識により安心感を持って患者を導くパートナーであることを表しています。


The symbol contains the shapes of the letter "M" and "F," with two people holding a heart. The letter M is for "medical," and F is for "finance." The yellow color implies that light of hope will always shine wherever people interact. It shows that partnership between M & F Partners and patients, doctors and patients, or M & F Partners and doctors, can solve medical issues that cannot be handled on your own. The heart in the middle is an oath to support patients' mental (M) side as well as medical (M) issues.
The base color, navy blue, symbolizes calmness and insight. It indicates that the company is a partner that guides patients and provides a sense of comfort in critical situations with their experience and knowledge.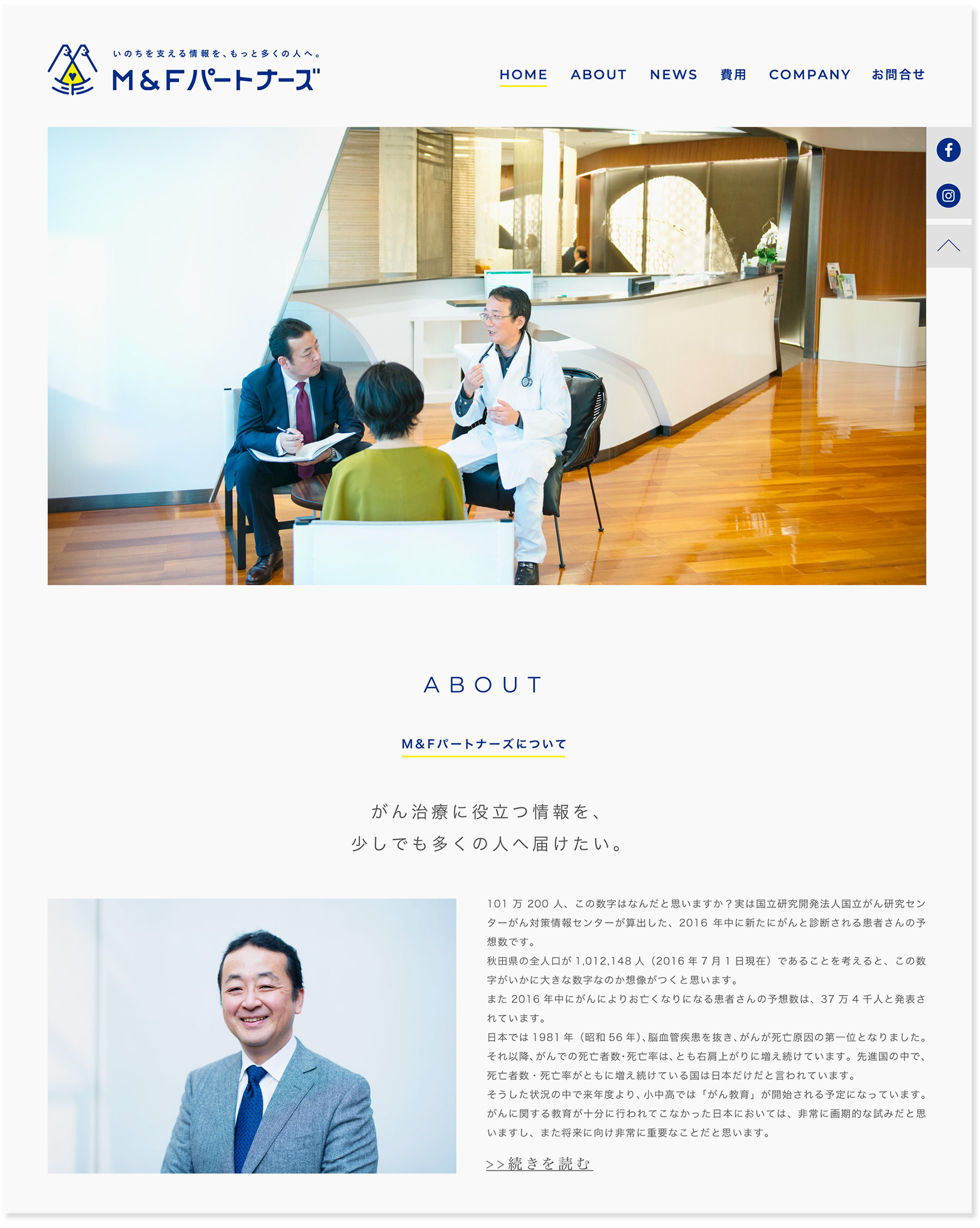 Direction, Design : 藤田雅臣 / 株式会社tegusu
Client : M&F Partners Inc.
Direction, Design : Masaomi Fujita / tegusu Inc.
Photographer : Tomoaki Okuyama