日本酒に関する知識を手軽に身につけられる、日本酒ハンドブック。
千葉県酒々井町の酒蔵「飯沼本家」がニューヨークで開催した、飲食店向けの日本酒勉強会用に制作されたもので、現地の店舗オーナーや従業員が日本酒について理解を深めるだけでなく、その魅力を人々に気軽に伝えられるようにと、ポケットサイズに仕上がっています。
tegusuでは、全体のアートディレクションとデザイン、またイラストレーションを担当しています。
It's a Japanese sake handbook to easily learn about Japanese sake.
This handbook was produced for a Japanese sake seminar intended for people who work at restaurants and bars. The seminar was held in New York by Iinumahonke, a sake brewery located in Shisui, Chiba Prefecture. The handbook helps local restaurant owners and employees understand Japanese sake in more detail. Not only that, the pocked-sized design makes it easy for them to keep it close at hand and tell other people about the charm of sake.
tegusu handles the overall art direction and design, as well as illustrations.
この冊子では、歴史、原料、製造工程、精米歩合、味、食べ物との相性、温度、ラベル、マナーという9つのカテゴリーで日本酒を紹介しています。専門的で難しい印象を持たれがちな日本酒の魅力を、完結な文章とイラストによって紹介し理解を促しています。また全ての内容をポストカードと同じA6サイズに収めることで、コンパクトに持ち運べるビジュアルブックです。
This handbook introduces Japanese sake in nine categories, which are history, materials, production process, rice polishing ratio, flavors, food that goes well with it, temperature, labels, and manners. Although people tend to think drinking Japanese sake requires special knowledge, this handbook shows the attractiveness of sake through clear and concise sentences and illustrations to promote more understanding. This compact A6 size visual book, which is the same size as a postcard, can be easily carried around wherever you go.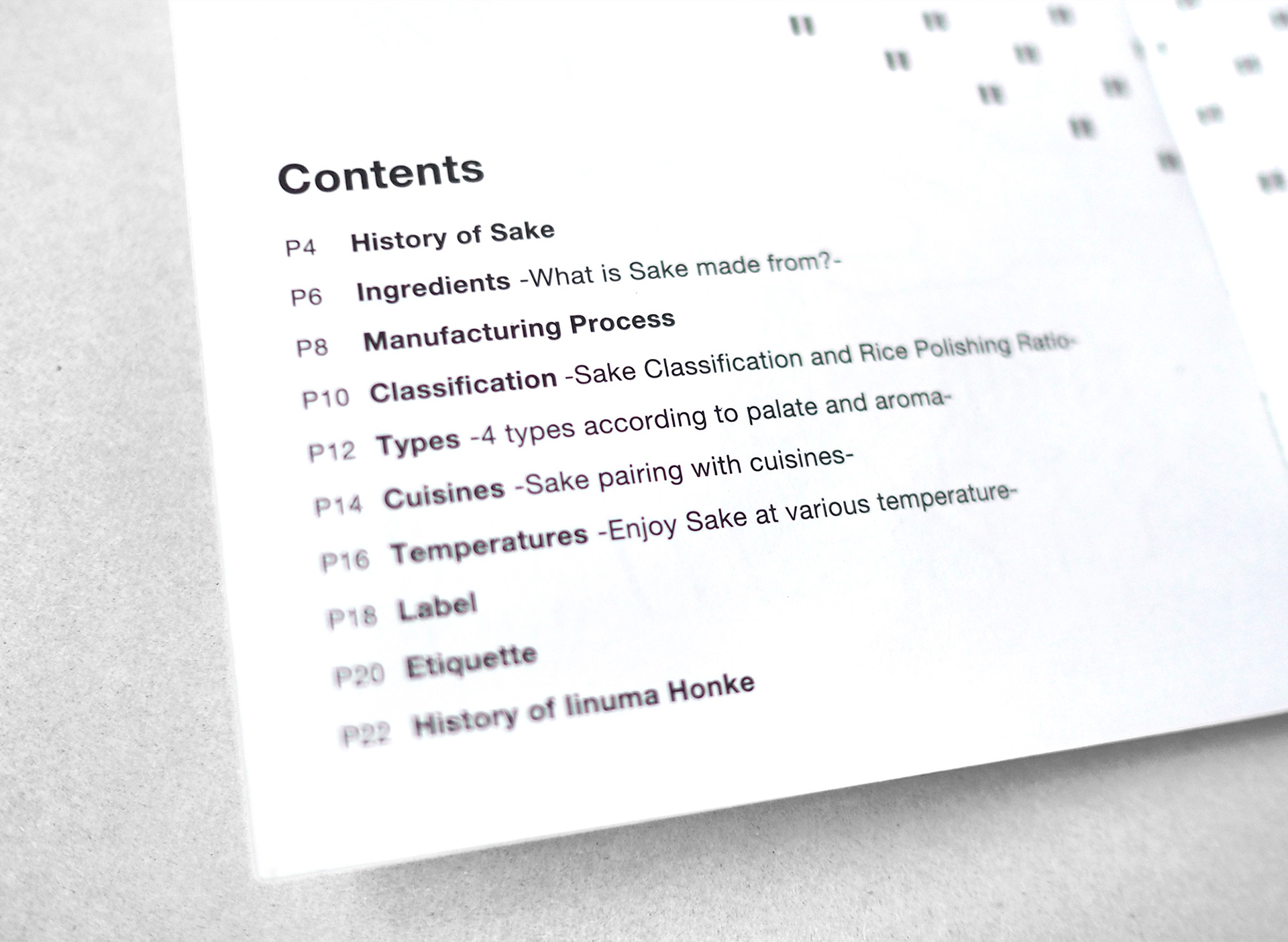 CL:株式会社飯沼本家(Iinumahonke Inc.) Producer:株式会社アンカーマン(Anchorman Inc.)
Art Director, Designer, Illustrator:藤田雅臣 株式会社tegusu(Masaomi Fujita, tegusu Inc.)

Thank you for watching.