きのえねアップルは、酒々井で300年以上続く酒蔵「飯沼本家」が、季節商品として毎年提供している純米吟醸酒。tegusuでは、商品コンセプトや販売ターゲットの再設定、ボトルデザインのリニューアル開発等を担当しました。
Kinoene Apple is junmai giojo sake (premium sake with no distilled alcohol added) provided annually as a seasonal product by "Iinumahonke," a sake brewery located in Shisui, which has been in business for over 300 years. tegusu handled the resetting of the product concept, sales target, and development of the renewed bottle design.
きのえねアップルは、白ワインに含まれるリンゴ酸を多く産む「協会77号酵母」を使用することで、甘みと酸味の絶妙なバランスや、軽快な後味が楽しめるお酒です。従来の冷やして飲む夏酒としてのポジションは引き継ぎながら、"カジュアルに楽しめる本格的な純米吟醸酒"として、若年層の女性ターゲットにも響くような日本酒を目指し、コンセプトや商品イメージを再設計しました。
Sake yeast "Kyokai No. 77," which produces multitudes of malic acid, is used in Kinoene Apple. Malic acid is contained in white wine too. When drinking Kinoene Apple, you can enjoy an exquisite balance of sweetness and sourness, as well as its light aftertaste. With the goal of creating the product image of being "authentic junmai ginjo sake" that you can drink casually, expanding demographic of drinkers and targeting specifically young females, we redesigned the concept and brand image, while maintaining its conventional position as the type of sake to be drunk cold in summer.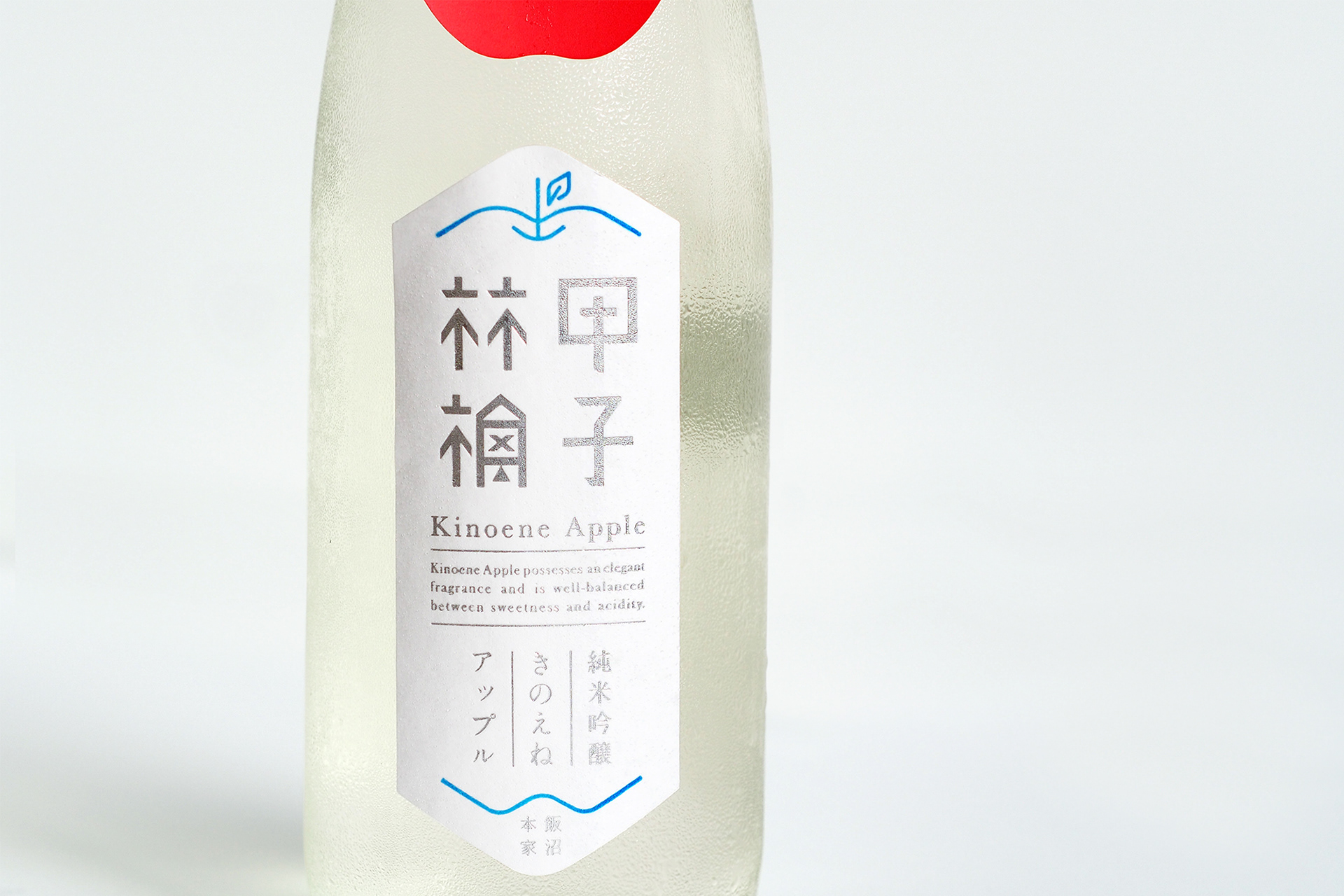 アップルという名称をしっかりと印象づける林檎の首かけPOPを採用し、POP裏面には商品特性を記載。日本酒らしい佇まいを失わないよう、商品名には漢字を大きく用いていますが、その文字のフォルムはシャープでモダンな形状に設計しています。またラベルもサイズを細く、ラウンド型の柔らかいフォルムにすることで、軽快な印象を与えられるように配慮しています。(原紙には和紙を使用)。
We used apple-shaped bottle neckers that increase product recognition. The product characteristics are printed on the reverse side. The brand name is written in Kanji so that the product maintains a Japanese sake-like appearance. The long and narrow shape of the label we designed creates a light impression. (Japanese paper is used for the label.) 

Client : 株式会社飯沼本家
Producer :  株式会社アンカーマン
Planner, CD, AD : 藤田雅臣(株式会社tegusu)
Client : Iinumahonke Inc.
Producer : Anchorman Inc.
Planner, CD, AD : Masaomi Fujita(tegusu Inc.)