The Four seasones of Country life / Kimiyo Nishiyama (A5 size / 64 p)
Art Direction, Design : Masaomi Fujita
Illustration : Rie Kurosawa
自然との関わりや、作物の収穫、料理の話題などを中心に、著者が自らの田舎暮らしを四季の変化と共に振り返るエッセイ。自然に囲まれた土地ならではの自給自足の生活模様を、豊富な挿絵と共い紹介している。
It is a collection of essays by the author on the subjects such as her relations with nature, harvesting of her produces and her cooking, in her reflections of her own country life in the changes of the seasons. It portrays the self-sustaining life in the country with ample illustrations. 
「季節模様」というタイトルの通り、四季を抽象的なパターンで表現し、本全体のグラフィックモチーフや、春・夏・秋・冬という中面の扉ページのタイポグラフィに展開した。
また本書では「勿体ない=物を大切にする」考え方に触れており、著者も「モッタイナイシエ」というユニークな肩書きを名乗っている。この言葉の漢字とローマ字をモチーフにシンボルを作成し、本書のアイコンとすることで特色を加えた。
The title of the book in Japanese literally means, "Life in the Country is Colored by the Seasons". I tried to express the implication of the title with abstract patterns of each season, applying them to the graphic motifs of the entire book, and to the typographies of the inside cover pages of 'Spring', 'Summer', 'Autumn' and 'Winter.
The author also writes about the ideas of 'mottainai' (not wanting to waste things), and she uniquely called herself 'Mottainaissier
'. I created an icon with this word in kanji and alphabets to make it a symbol of this book for the uniqueness.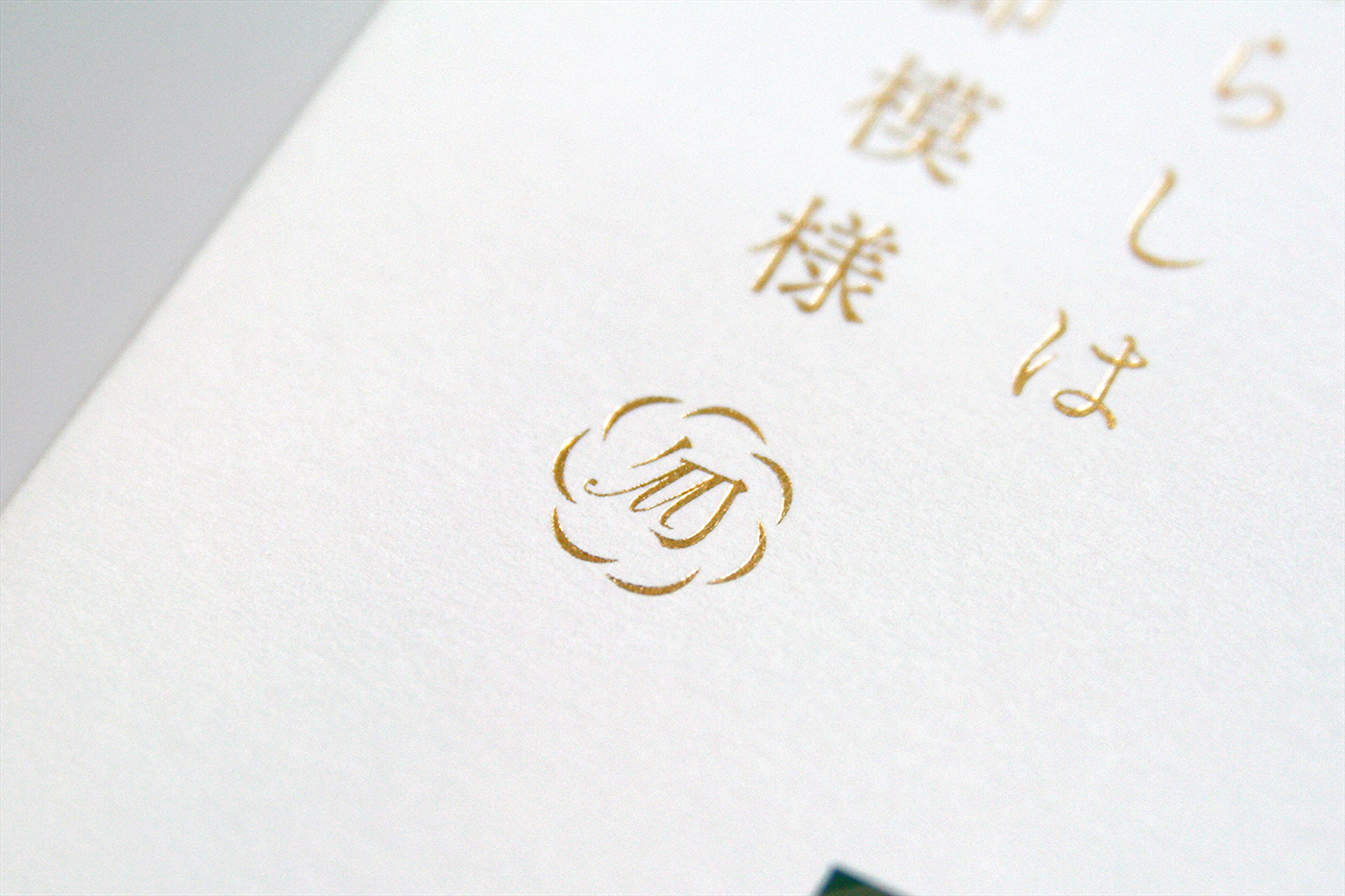 カバーは、著者が生活の中で四季によって移り変わる窓からの景色を楽しんでいる姿をイメージし、四つの窓から四季のパターンが覗くように設計した。カバーを取った表紙は、四季のパターンが自由に広がり、田舎生活の「豊かさ」「彩り」を表現している。
またカバーの余り紙でこのパターンをランダムに切り取った栞を作成し、本書の「勿体無い」という考えを細部にまで表現した。
The cover represents the image of the author enjoying changes of seasons in her life from her window, and designed to show the patterns of the four seasons from four windows. When the cover paper is removed, the inside of the cover shows free spread of the patterns of the four seasons that express the 'richness' and 'colors' of the country life.
I also had bookmarkers made from the excess of the cover paper, cutting the patterns randomly to express the idea of 'mottainai' in details.